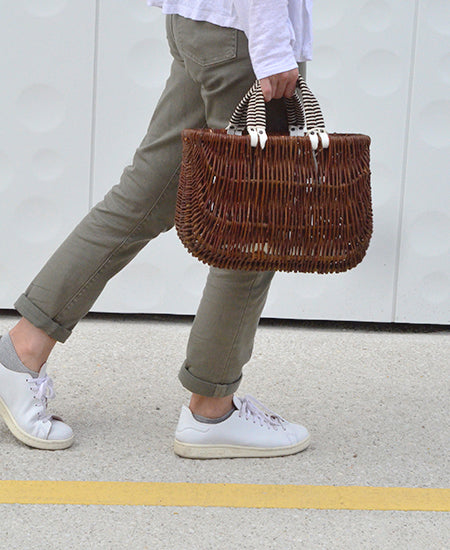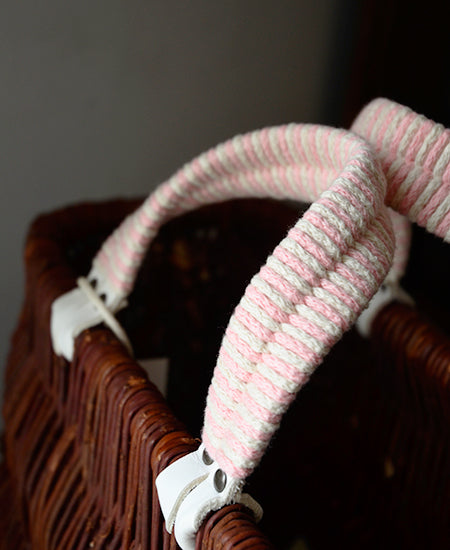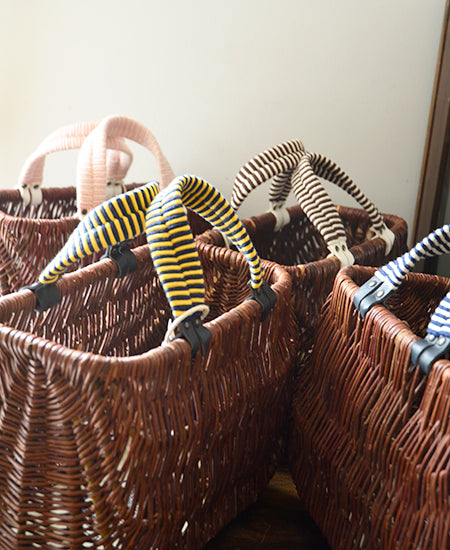 【35%OFF】rosa mosa / Willow basket bag (rose/natural)
€91.00
Regular price
€140.00
Subscription | ご登録 • Save
design in austria, hand made in poland

size : about 18 x 30 x 14 cm, 27 cm (handle)
material : willow 70%, cotton 20%, leather 10%
color : rose/natural

Beautiful and in house handmade 'rosa mosa' one of a kind basket bag, spacious enough to store your picknick goods, your everyday market purchase. Nice to have in your favorite room. * unpeeled willow
* leather straps with bi-colored cotton tyeing in different colors
* light colored leather base with signature rosa mosa hand print labelling (for the bottom of the basket)

rosa mosa
Salzburg born Simone Springer and Yuji Mizobuchi from Kyoto are the designers behind the rosa mosa label. They met and began collaborating while studying Footwear and Accessory design at the Cordwainers college in London. rosa mosa stands for individualism, innovation and the highest level of craftsmanship. By sourcing primarily from local suppliers and artisans in Austria and working closely with tanneries each pair of rosa mosa shoes finds the perfect balance between craftsmanship and artistic thought.
ハンドルカラー:薄いピンク&オフホワイト
丁寧な素材選びととアーティザナルにこだわった柳製バスケットバッグ。
ポーランドのロマの女性達によって編まれた伝統的なかごにrosa mosaの遊び心やエスプリをプラスされています。バッグ底には荷物を傷つけないためのハンドペイントされたオリジナルイラストがキュートなレザークッション付き。 ハンドルはレザーとコットンの異素材のバイカラーがバスケット全体のアクセントになっています。
荷物の目隠しにもなる風呂敷のような布が付いていて、こちらに包んでお届けします!

※光の当たり具合で色が多少商品により異なって見えます。
※全てハンドメイドのためサイズも多少の前後がある場合もございます。どうぞご了承ください。

rosa mosa
シモーネ・シュプリンガーとユウジ・ミゾブチのユニットによるシューズとファッションアクセサリーのブランド。オーストリアに構えたアトリエで手作りされる作品は、レベルの高いクラフトマンシップを生かした個性的な作品ばかり。 特にヴェジタブルタンニングと呼ばれる草や木の汁などから抽出したタンニンでなめした皮革を使用しているものが多く、使い込むほど良い味になっていく。
Shopping Informations | お買い物ガイド
Designers & Creatours | 取り扱いブランド